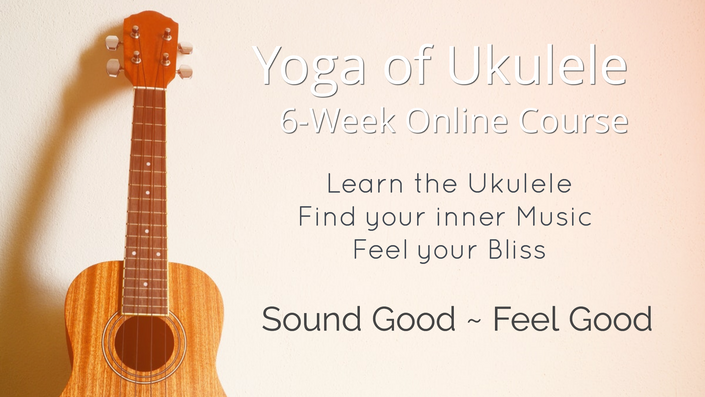 Yoga of Ukulele: 6 Week Online Course
Learn the Ukulele. Discover your Inner Music. Feel your Bliss.
Enroll in Course
Are you ready to play the ukulele to sound and feel good?

If so, please join me, Josh Brill as l walk you through every step on the path so you can play the ukulele beautifully when you enroll in our course.

From the basics of how to hold the ukulele with proper body alignment all the way to playing beautiful music on the ukulele.

Learn the ukulele in a relaxing meditative way to clear your mind, sound good, and feel good!!!

Develop your inner music and be in the moment.
Relax the mind and be present.

This 6-Module Ukulele journey will provide you with the tools it takes to play the ukulele with ease.
To sound good and feel good as you develop a musical meditation practice that reduces stress and increases well being.

You will learn everything you need to play the ukulele with mindfulness.

You will have all the basics to learn your favorite songs while having a joyful and fulfilling experience at the same time.

In this deep and engaging transformational ukulele journey, you will learn the wisdom and core knowledge of the Yoga of Ukulele as a mindfulness exploration.

Using mindfulness is an amazing way to help you develop your ukulele skill-set, experience immediate improvements, and feel the joy of playing music that harmonize the body, mind, and soul.

You will learn in detail how to best utilize your practice sessions and of course, how to play beautiful music on the ukulele and feel the bliss that music brings us!
With:

A plenitude of lessons and videos to work with each week
Enjoyable and effective musical meditation practices
Guided audio meditations
A comprehensive method to learn the ukulele with mindfulness
You will transform into a uke yogi through this online journey!

You will feel great, you will sound great!

You will have a great foundation to take your ukulele journey to the next level!

Benefiting everyone from the first-time ukulele yogi to the experienced pro!!!

A plethora of video lessons, practices, meditations, and tools that support each step of your ukulele journey.

What You'll Learn
A mindful approach to playing the ukulele with ease.
You need to learn how to 'tune in' first and then it's easy to sound good and play the ukulele with ease!
Fun, embodied meditative musical practices that cover every aspect of playing the ukulele.
Learn efficient right and left hand techniques by playing actual music! Muscle memory plus music is key to quick and efficient progress!!!
How to effectively engage with your practice sessions to get the most satisfaction.
If you have little time, this gives you the path to make the most out of little and still see massive improvements!

How music work as a mindfulness meditation.


You'd be surprised as to how easy music can be to learn the ukulele using the 'harmonic mindset'!
Tips and tricks to learn your favorite songs faster and get the most out 'youtube vids.'
Learn how to keep expanding your capabilities and keep growing!
The differences between play and practice, and how best to do both.
Go with the flow and make progress!
The ability to use rhythm and groove to connect deeply into the meditative state.
Learn the 'feeling quality' of time and use it to feel steady, aligned, harmonious, strong, and expansive!
How to create your own personal musical meditations on the ukulele.
Creative Expression!!
This is what you've been waiting for!
And also...The dos and 'dont's' of learning music.
Avoid old mistakes and embrace the opportunity of always playing beautifully and enjoying the journey!!
What's Included?
Musical meditations that you'll learn to play each week as your musical play.

Breath of music practices to help you connect you deeper with the music you are playing!

A wealth of helpful resources including guided meditations, music and mindfulness videos, inspiring encouraging musical games, challenges, and much more!
Very effective

productive practice tools

to increase your results and help keep you accountable!

Community support!!!!!!!
All students who complete the course will be able to

play the ukulele beautifully

with ease!!!
So what's in the journey?

The Ukulele Basics

— We'll discuss all the basics from the ground up giving you a strong foundation to move forward with ease. I believe it's incredibly important to know some fundamentals to begin with.

The Brilliance of Music

— How does music work? What are all the moving parts and why are they important to uke yogis?

Mindfulness

— We'll discuss why mindfulness it's so important to all aspects of playing music and how to play the ukulele as a meditation.

Body Alignment

— What do you need to know to play the ukulele with ease? We'll discuss how the ukulele is a movement practice and why embodied awareness is so important to your progress.

Learning the Chords

— This is one of the most important sections of the entire class. It will train your BODY to think in chords and give you the tools to learn any song you wish!!!

Rhythm and Flow

— How can we use our inner rhythm and connect with the flow state? We'll also discuss the secret to finding your 'inner tempo' using strumming and finger-picking patterns.

Mindset Lessons

— Where does our mind go? How do you use intention? How do you make focus better? We'll cover it all!

Simple Beautiful Music

— Meditative music allows for many different approaches; we'll learn how to use the concept of 'simple beautiful music' to create deeper engagement in our ukulele play!

Your Inner Music

— The best part about music is how expressive it can be. We'll go over how to find your inner musician and have a new form of creative outlet and expression!

Breath of Music

— How does breath and music move together with rhythm? We'll learn ukulele breath work practices (pranayama).

Efficient and Productive Practice

— We'll learn the principles of a productive practice session. What's too much? What's not far enough?

Yogic Philosophy

— Once you've become familiar with this ancient view on harmonized living, you'll see how applicable it is for both music and a better quality of life!

Sequential learning

— Step by step, note by note, and all the while sounding good, feeling relaxed and fulfilled!!
Your Instructor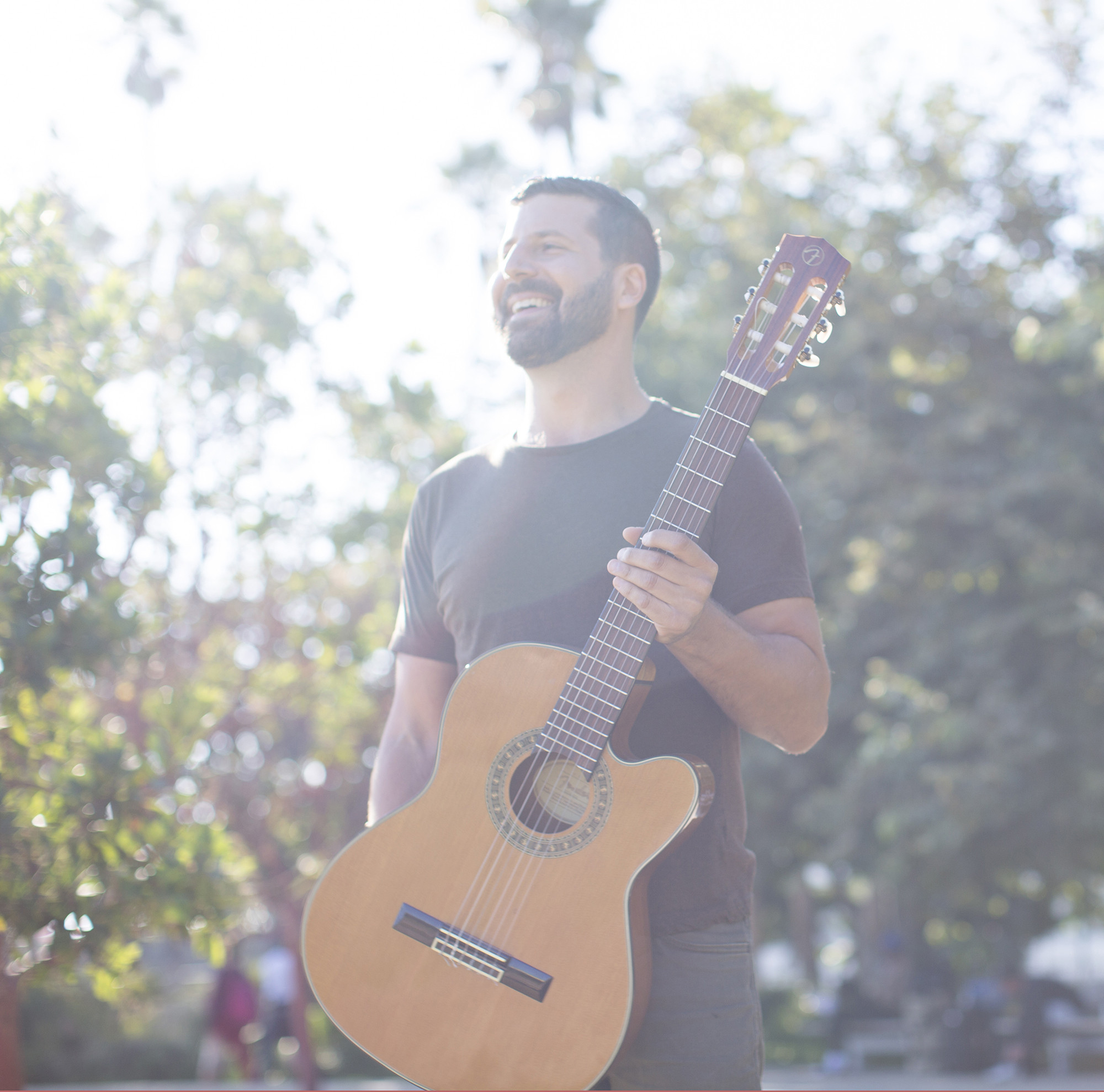 Josh Brill is a devotee, student, and teacher of music. He is an acclaimed guitarist and producer, founder of Yoga of Guitar, and a transformational music coach with over 31 years of experience.

A student of music since the age of 8 and a meditation practitioner since 20, Josh Brill is devoted to creating a more harmonious humanity with music.
Josh's mission is to support people on their musical journey and release more transcendentally beautiful music into our world.

With over 25 years of guitar teaching experience including a position teaching at Berklee College of Music, Josh combines his vast experience as a professional musician and as a master teacher to educate internationally on the power of music as a mindfulness practice.

Josh's life and career as a professional musician further developed and evolved through his work and participation with Robert Fripp and the Guitar Craft/Guitar Circle and Orchestra of Crafty Guitarists courses and projects.

As a musical artist, Josh's current focus is on producing and releasing music as medicine. Medicine music intentionally created to induce a calm mind, an open heart, a relaxed meditative state of being and gently touch the sensitive depths of the human experience with textural tones of a transcendent harmony that feeds the soul with 'good sounds and good feels.'

What previous students had to say about the program: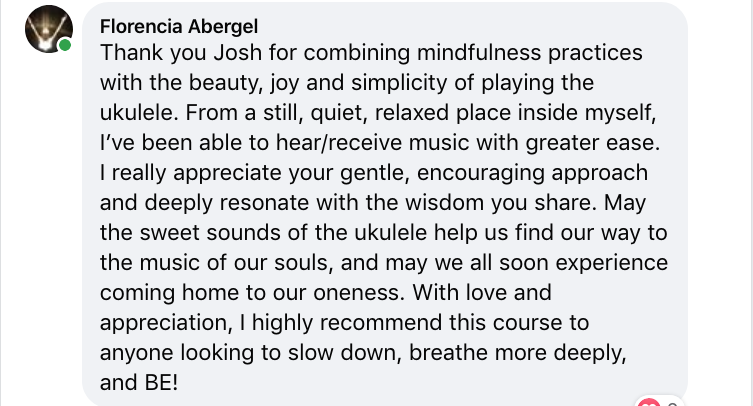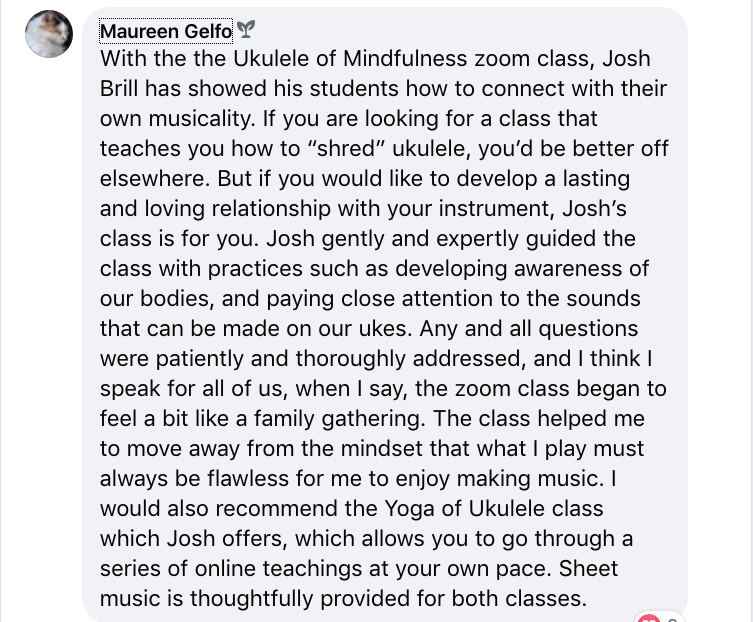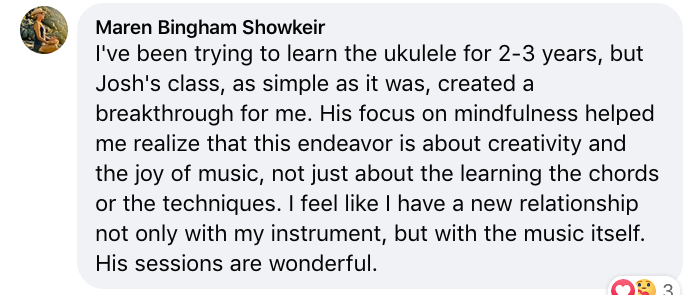 Frequently Asked Questions
When does the course begin and complete?
The course begins when you enroll! And you are welcome to take your time with the sessions or move through it at your own pace!
How long do I have access to the course?
How does lifetime access sound? After enrolling, you have unlimited access to this course for as long as you like - across any and all devices you own.
What if I am unhappy with the course?
We would never want you to be unhappy! If you are unsatisfied with your enrollment for any reason, contact us in the first 14 days and we will give you a full refund.
I am new, is this right for me?
Yes!!! This course is a great way to begin your musical path on the ukulele!!!
I already know how to play ukulele, is this course right for me?
YES!!! This course was specifically designed to cover the whole spectrum of experience and ability!!!!
Some more student experiences: